2015 has very much been about my new family and live work but rest assured 2016 is the year..
http://www.itv.com/news/calendar/update/2014-10-21/leeds-singer-paul-stone-to-fly-out-to-america/
http://www.musicweek.com/news/read/music-week-presents-paul-stone/058868
http://yorkshirereporter.co.uk/leeds-crooner-paul-stone-brings-big-band-sound-to-the-grand-depart-yorkshire-stage-of-le-tour-2014/
http://www.ilovemediacityuk.com/enchante-stone-il-chante-swing/
http://www.thepressnews.co.uk/press-news/stone-theyre-playing-song/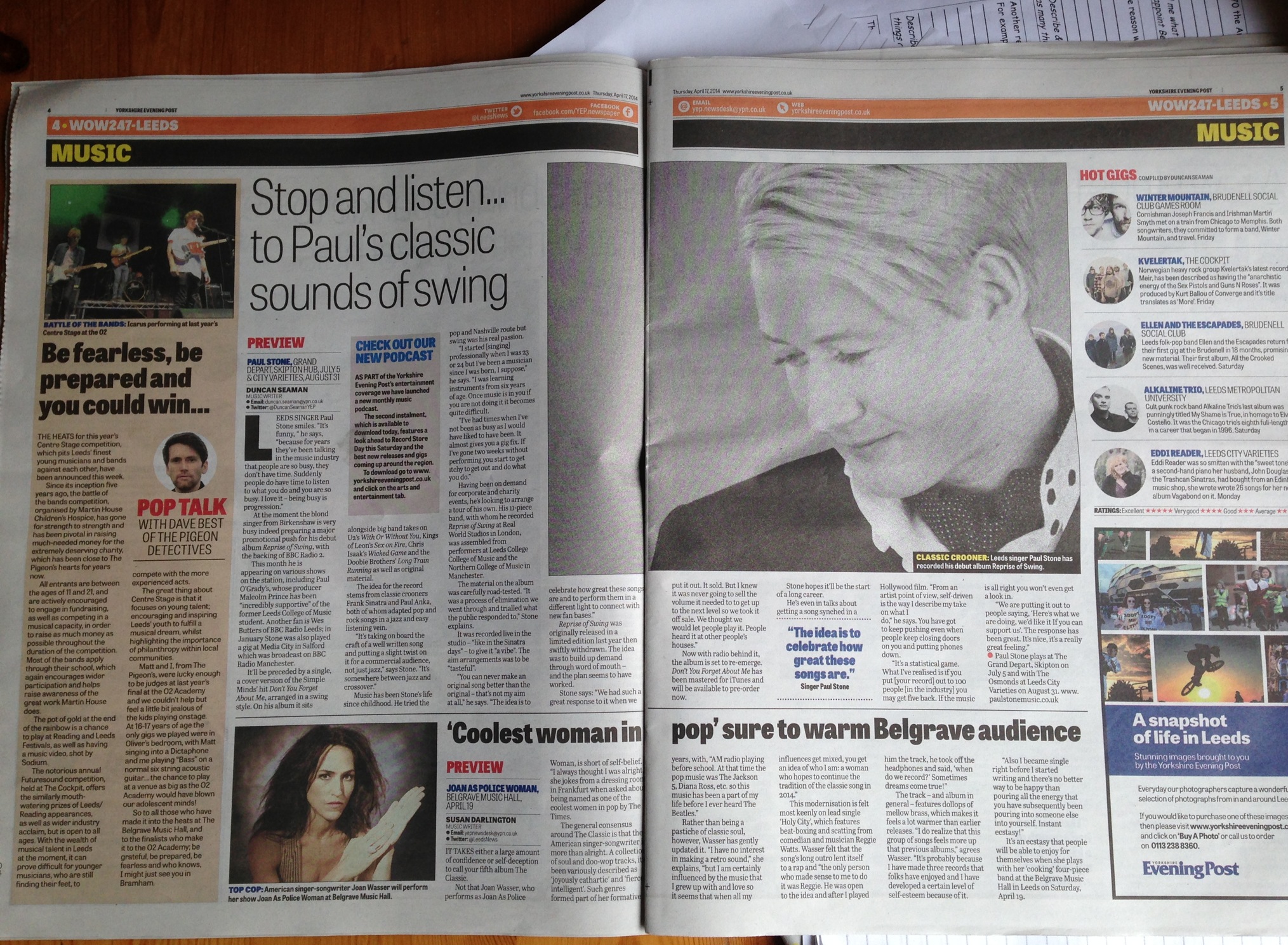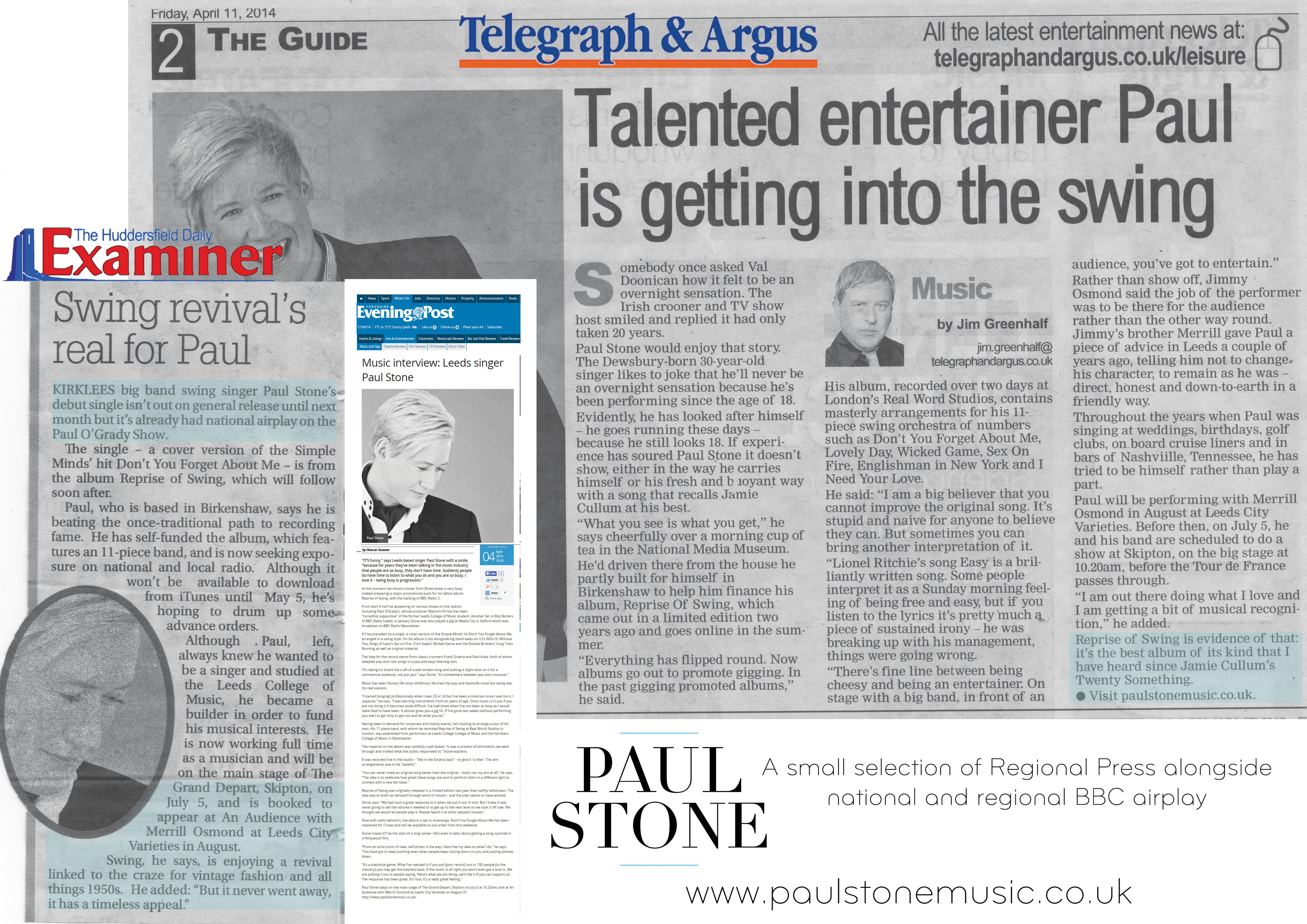 http://www.yorkshireeveningpost.co.uk/what-s-on/arts-entertainment/music-and-gigs/music-interview-leeds-singer-paul-stone-1-6543263
Duncan Seaman-Music Writer
Yorkshire Post Newspapers April 4th 2014
picture taken by Paula Pollock
'A charming character with a great stage presence and the voice to back it up'
blockquote>"We're taking modern rock and pop songs and we're swinging 'em," said bonny blond singer Paul Stone as he strode on stage. Hearing the Oasis dirge Wonderwall sung in swing tempo was oddly effective and young Stone certainly can sing. With the aid of a great face and fabulous stage posture and poise, I wouldn't be a bit surprised to see this new star in the firmament of swing popping up on the radar again soon."
STAGE REVIEW 'Mark Ritchie'
Has been asked to become the resident vocalist for Yorks new 5 star hotel 'The Cedar Court Grand'
http://www.yorkshiretimes.co.uk/article/Yorkshire-Businesses-invited-to-join-American-Legends-at-Leeds-Charity-Celebrity-Gala-Event
http://www.leedsliveitloveit.com/visitors/news~page/american-legends-join-stars-of-yorkshire
http://www.hearingfund.org.uk/2012/08/new-act-announced-for-the-charity-gala-dinner
'Music is its own reward' Sting
PAUL STONE – REPRISE OF SWING – 'JAZZLEEDS'
10 December 2014
'JazzLeeds'
John Toolan
According to Leeds based singer Paul Stone, "…a record is a living breathing thing which is never finished so why take years over recording it?" Consequently his latest release on Linn Records, "Reprise of Swing", was recorded over two days at Sphere Studios in London, and taken as a complete piece of work, has a loose, comfortable feel, that indicates how such an ambience can be achieved with dedication and enthusiasm. "Reprise of Swing" takes an eleven piece band and a collection of both familiar compositions and
original material, and produces a coherent album of big band swing, silky jazz and uplifting easy listening arrangements. Simple Minds' "Don't You Forget About Me" is given an arrangement that will bring a grin to the face of even the most cynical listener, whilst U2s' "With or Without You" manipulates the mood and tempo of the original to produce something wholly unrecognisable yet
somehow familiar. "Lovely Day" by Bill Withers and "Wicked Game" by Chris Isaak are nearer in essence to the originals, but here without the baleful melancholy that Isaak infused his version with. The Doobie Brothers "Long Train Running" is again virtually unrecognisable from the familiar version, but given a swing makeover is given a new life and personality.
Perhaps the cover version that would appear on the surface to take most risks, but which in reality, comes closest to the essence of what "Reprise of Swing" is aiming for, is "Sex on Fire" most likely recognised from the Kings of Leon version. Given a big band swing identity, the song bristles with vitality and polish. Stings' "Englishman in New York" fits easily into its' new jazz framework, whilst the version here of Barry Manilow's "Could It Be Magic" although lacking the intense passion and romanticism of the original, is given a light hearted arrangement, which if not passionate to listen to is certainly entertaining. The original pieces fit in beside the covers with ease and indicate a level of musicianship that feels comfortable with this area of jazz. Paul Stone portrays himself as the consummate entertainer who has the showmanship to pull off a collection of disparate covers such as these with effortlessness.
Of course "Reprise of Swing" is doing nothing new in covering contemporary and divergent tunes, as jazz has been covering show tunes and popular chart songs for decades. To criticise the album in this way would be missing the point however. "Reprise of Swing" is keeping alive a tradition of music that is about pure entertainment and ease of access. The listener has no need to analyse and critique these pieces; they are presented here to be uncomplicated and reassuring. At a time of national austerity and unease, music as inspirational and as joyous as this should be required listening for all.
Related Links
Paul Stone
Reprise of Swing
Leedsmusicscene
28/12/2013
Reprise of Swing
By Paul Stone
The uplifting feeling you get from the 'Reprise of Swing' is unbelievable. Paul Stone (a modern day Jack Jones) croons his heart out on this record which fancily looks like an old record. With a mixture of old songs such as Barry Manilows 'Could it be magic' and new songs such as Kings of Leons' 'Sex on fire' showing that this music is for everybody to enjoy, and that people should not be scared by anything slightly 'jazzy.' Paul Stone is a true singer unlike a certain Michael 'autotune' Buble. The live band really adds an excitement to every track as it is nice to hear the obvious enjoyment in the creation of this record. There is no reason why this could not be a massive hit, it has commercial elements in regards to adverts or films.
If you are ever having a bad day, stick this is in your car and if you don't feel happier then there is something clearly wrong with you. Paul Stone could be the next big thing.
www.paulstonemusic.co.uk